---
---
Software that makes your life easier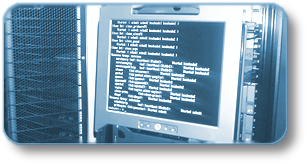 From a HPC software solution that includes many leading open-source software products, through effort-saving tools, to web-delivered interfaces for administrators and users of your cluster alike, we work to exceed your expectations and are passionate about showing how HPC clusters can be architected to really shine.
Alces Symphony software suite
Tools where and when you need them.
Delivered as part of our open-source offerings, the Alces Symphony software suite is a collection of open-source software tools that simplify the deployment, configuration and installation of computer operating systems and applications. With a primary focus on the installation and day-to-day management of HPC clusters, the suite includes utilities for managing software and service configuration, network configuration, out-of-band node management, node deployment and user management.
Alces Portal
HPC for everybody – users and administrators alike
HPC is often seen as a complex industry. With the vast usability improvements that are offered by today's web technologies, we don't see that it has to be like that any longer. Tasks that were previously complicated can be broken down and delivered through a familiar web browser paradigm.
It's with Alces Portal that we are working to change this perception amongst users, enabling more effective use of the computing resources at their disposal, as well as providing administrators with a set of tools to facilitate common cluster monitoring and management tasks.
With Alces Portal, we want to give you full control of your system by allowing you to:
manage your files remotely, whatever filesystem they're stored within.
submit and monitor the progress of your HPC jobs.
display your quota and disk usage at a glance.
quickly access user guides and documentation.
configure monitoring dashboards containing vital cluster performance statistics.
access the service processors and the web-accesible interfaces provided by your systems infrastructure.
High performance software for high performance computing
Alces Portal
Our web-delivered service that works alongside the command-line environment, providing HPC users and administrators with an easy-to-use environment, including:
Configurable dashboards to keep pertinent information at your fingertips
Job submission, monitoring and control
Data ingress and egress between workstation and HPC filesystems
Submission script creation and editing
Integrated compute and filesystem utilization reporting
Easy access to administrator and user documentation
Alces Symphony software suite
Our suite of command-line utilities to facilitate the management and operation of your HPC cluster, including:
Cluster user account creation and management
IPMI utilities to ease node management and serial-over-LAN access
Node software configuration utilities to ease configuration changes across your homegeneous environment
Storage health monitoring and reporting tools
PXE service configuration utilities to manage node boot options
Network interface setup and configuration utilities